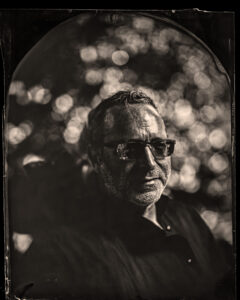 The host and creator of the podcast, Matthew Dols, currently lives in Prague, CZ. His work has been exhibited internationally in museums and galleries, and is in the collections of the New York Metropolitan Museum of Art, Crown Point Press, the al Serkal Foundation, and the deYoung Museum's Auchenbach Collection, among others. His work has been widely published including F-Stop Magazine, Entertainment Weekly, US News and World Reports, Billboard Magazine, and The Washington Post Magazine.
He has received an EEA and Norway Grant and a Research Incentive Fund Grant for his work and given workshops and Spoken at Photoworld Dubai, Gulf Photo Plus, Maraya Art Center, University of North Carolina At Wilmington, and participated in a residency at No Boundaries Artist Colony.
He is a Professor of Photography at the University of Maryland Global Campus. He received an MFA in New Genres Arts from the San Francisco Art Institute, and a BFA in Photography from the Corcoran School of Art and Design in Washington DC. He is a portfolio reviewer online for LensCulture.com.
Over the years, he has worked in museums, galleries, universities, stock photography agencies, as a photojournalist, picture framer, art critic, director of a community darkroom, a waiter, a roadie. He has studied with artists and photographers, massage therapists, chefs, reflexologists, and Native American shamans, and has been a judge on the popular, "I am Nat Geo Photographer" TV show. He is also the founder of the ongoing Art for the Masses, an affordable art fair, started in 2003 and created Pedestrian Art, a public sculpture program in 2004 both in Wilmington, NC.
The question I have never outgrown is Why? why do some people succeed where others fail, why does some art sell for millions while other are never even seen the light of day. What is that path to success that some see clearly and others never even know exist? Through this podcast I want to try to both level the playing field by offering everyone the opportunity to the same set of knowledge, and help offer a rising tide to lift all boats. There are too many stories about how people gain notoriety because they are at the right place at the right time and befriend the right person. I want to understand what came before that in order to make it so that those people were prepared for that chance meeting.
The podcast is called The Wise Fool because I feel that everyone is wise about their chosen specialties and often foolish about most other things. this is true for me as well, and I want to learn how the art world works so I figured why not ask the professionals in their wisdom about how their corner of the art world works in order to help us all being better educated and have a better chance at success.